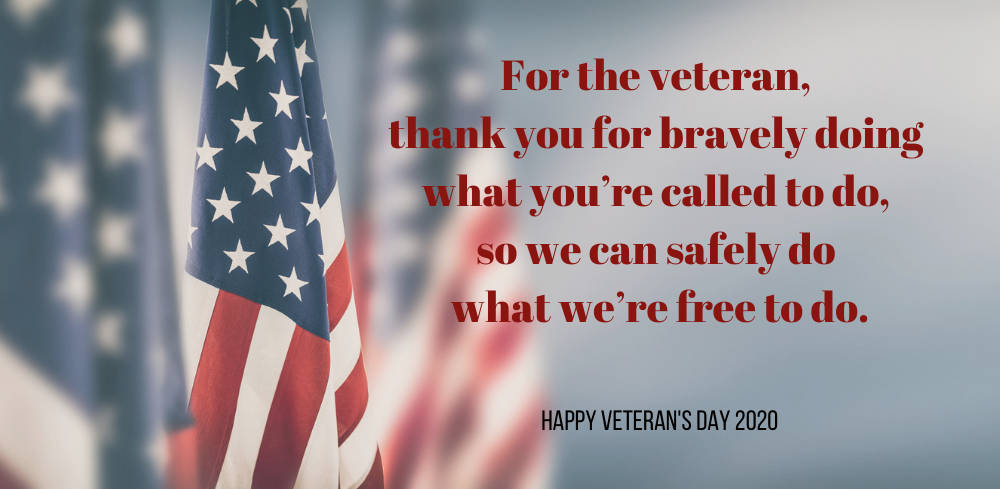 Happy Veteran's Day 
Formerly known as Armistice Day, Veteran's Day began on November 11, 1919 on the first anniversary of the end of World War I. The United States Congress passed a resolution in 1926 for an annual observance, and November 11th became a national holiday in 1938. In contrast to Memorial Day, Veteran's Day pays tribute to all American Veterans, living and dead, with special recognition to living veterans who served our country honorably during war or peacetime.
The Significance of Eleven Veteran's Day is November 11th in honor of the end of World War I, officially on the 'eleventh hour of the eleventh day of the eleventh month' in 1918. Great Britain, Europe, Canada, and Australia also commemorate veterans at this time of year. Great Britain and Europe observe two minutes of silence at 11:00AM every November 11. Veterans Today The men and women who serve in the U.S. Military today come from all walks of life. They are neighbors, co-workers, parents, children, friends, and an important part of our communities. There are over 18 million living veterans that have served in at least one war. Women make up 9 percent of our current veterans. 7 million veterans served during the Vietnam War. 3 million veterans served in support of the War on Terrorism. 2 million veterans served during the Korean War. We have about a half a million World War II veterans still alive today. The states with the highest veteran populations are Alaska, Maine, and Montana respectively.
2020 Observances
Most observances will be virtual this year. I am sharing some that I found that you may enjoy watching. You may be required to sign in to receive a link to view the programing, links are provided below.
Commonwealth of Virginia's Ceremony
November 11 | 11:00AM to 12:00PM
In-person at the E. Bruce Heilman Amphitheater at the Virginia War Memorial in Richmond, Virginia. Due to public health advisories, attendance will be limited to 250 guests. The ceremony will be livestreamed here.
Old Dominion University Veteran's Day Observance
November 10 | 12:30 to 1:30PM
This ceremony will feature Rocky Bleier, Army Veteran and Former NFL Player for The Pittsburgh Steelers. The virtual event requires an online RSVP. 
City of Chesapeake Veteran's Day Memorial Ceremony
November 11 | 11:00AM
The city invites the public, current and former members of the U.S. military and their families, to join other local veterans, city officials and community leaders for a special Veteran's Day Ceremony on the steps of City Hall at 306 Cedar Road.
North Carolina Veteran's Day Virtual Ceremony
November 11 | 11:00AM
Keynote speaker is PJ Moore, MD WWII Surgeon. PJ is a one hundred year old WWII surgeon who took care of our heroes wounded at the Battle of The Bulge. Click here, then click the 'LIVE NOW' button at the top of the page for the live event. 
Veteran's Day Virtual Ceremony Courtesy of VITAS November 11 | 3:00 to 4:00PM
Enjoy all the elements of a traditional Veteran's Day celebration – flags, patriotic songs, recognition, and reflection. Click here to sign up for the link to the event.
Virtual 37th Annual St. Louis Regional Veteran's Day Parade
November 11 | 12:00PM
A unique virtual event has been planned by the city of St. Louis to thank veterans for their service to our nation. Join via Zoom here. 
To all our veterans. Thank you for your service. I hope you get the opportunity to enjoy one of these events this year. If you know of any other events, I invite you to share them with me so I can share with others. And if you have any real estate questions, do not hesitate to contact me. I'm here to help.
The Real Estate Group 757-410-8500
1112-F Eden Way N, Chesapeake, VA 23320